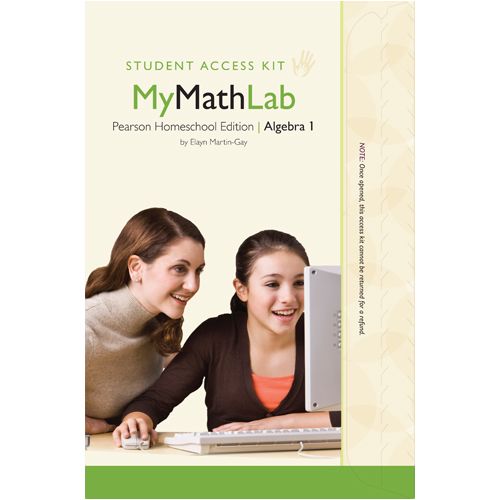 For the past several weeks, we have had the privilege of reviewing Pearson's MyMathLab Algebra I. While the program had some plusses and minuses, I am glad to have gotten to try it out, as I am currently looking for an Algebra I program to use for the coming school year, and this may be it.
Overview:
Pearson MyMathLab is an online math teaching program. My son has a Student Access Account, and I have a Parent Access Account, in which I can monitor his work done. From our home page, or "Course Compass," we may: launch into the Algebra lessons, taught via e-textbook and/or some video teaching; practice concepts we've already learned; assess our learning with quizzes and tests (after completing the pre-requisite work with a satisfactory score); and look at charts showing our progress. The program is set up for a parent to do with the student, but he is able to do quite a bit on his own, and I help him when he needs it. There is also an option to purchase tutoring services from Pearson. The product is comprehensive in offering pretty much whatever help you need in learning the subject. There are a number of options for personalizing your lesson plan, complete with a calendar, or just working through the lessons in order. You, as a parent, can put as much time and effort or as little as you desire into actually planning the lessons. The program is very adaptable to your needs.
While doing homework and practice questions, my son has several help methods available to him. If he is unable to solve a problem on his own, he can always click a "Textbook" button, which will take him right to the section of the e-text that covers that concept. For some sections, there is also a "Video" button, which will play the video that teaches the section. He can also "View An Example" of a similar problem, or click "Help Me Solve This," and he gets a step-by-step tutorial on solving that problem. The practice exercises will provide him with more of the same type of problem to make sure he understands.
Pros and Cons:
I really like the Pearson Algebra I course itself, quite a lot. The explanations in the text and videos are thorough and understandable. Math is my son's weakest subject, and I need a curriculum that will help make Algebra make sense to him. So far, I like Pearson better than any other I've seen. I really like the fact that my son can use the written text or the videos at any time during the practice exercises. The "View An Example" and "Help Me Solve This" tutorial options offer even more support. If he does not understand something one way, he can keep trying others. Having audio, visual, and a walk-through application from which to choose are very helpful. I like the fact that he can work through some on his own, but that I am still involved as the teacher. Most of all, I like the fact that he is understanding the lessons, and while I don't know if he'll ever
like
Math, it has become more palatable to him. He is in favor of continuing to use Pearson throughout the next school year.
The "cons" of MyMathLab all center around the computer operation. I had a difficult time getting the program set up and working correctly. Much of this was my own error, but the layout of the course does not seem user-friendly to me, and it took me a while to figure it out. I feel like I spent much more time during the review period figuring out how the program works than actually doing Algebra with my son. It seemed that every time he got started, there would be another question that it would take me some time to figure out. Now that I've spent that time, however, I feel that we are at a place now that we could continue using the program smoothly, should I decide to use it for the coming year. If you decide to get this program, I would recommend that you: 1) carefully make sure that you have the computer components necessary, and 2) give yourself and your student a few practice weeks before starting the course to familiarize yourself with it and make sure everything is set up properly.
At this point, there is only one thing that may keep me from continuing to use MyMathLab this year, and that is that in order to get it working properly on my computer, I had to "allow all cookies" in the computer's browser settings. I must say that Pearson's customer service was very helpful once I contacted them, but they said that I will have to allow all cookies. I had my computer set up to accept cookies from this site, but for some reason, that was not enough. I feel this is a security problem, and I have not decided whether or not to continue using the program because of it. For the time being, I am using it, and deleting cookies from my computer frequently.
Would I recommend this program? For the Algebra course itself, absolutely. I think it is a good program and a good value for your money. The only reservation I have is the fact that I have to "allow all cookies" on my computer.
UPDATE FROM THE VENDOR: After posting my review, in answer to an email I had sent, I received the following information from the vendor about using the Firefox browser, which may solve my "cookie" problem. (I have been using Safari.) As I said, Pearson's customer service is very helpful:
If you use Firefox you can set up the settings to clear your browser when you close Firefox. That way cookies are enabled, but you don't have to manually clear everything. Tools

à

Options

à

Privacy

à

check box "Clear history when Firefox closes" and set the Cookies section to "Keep until: I close Firefox"
The Important Info:
Product:
Pearson MyMathLab Algebra I
Company:
Pearson Education
Pearson has a number of educational products for different subjects and different levels. You can find more information on the
Pearson Homeschool website
.
Ages:
The Algebra I program is intended for middle school or high school students.
Price:
MyMathLab Student + Parent: $49.97 + $30. You may purchase the program for Algebra I or Algebra II
here
.
My Schoolhouse Review Crewmates reviewed several different Pearson Education products. Click the banner below to see what they thought!
Disclaimer: I received a free copy of the Parent & Student Access Kits for Pearson MyMathLab Algebra I in exchange for a fair and honest review. No other compensation was given, and all opinions are my own.