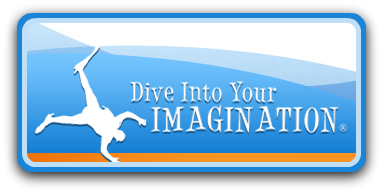 The ocean has always been a fantastic place to teach science. Everywhere the Navy has sent us, my kids have been enthralled with SeaWorld, the North Carolina Aquarium, the New York Aquarium, and the Baltimore Aquarium, not to mention the actual ocean. Even before they fell in love with Disney's Finding Nemo, they loved colorful fish and fascinating anemones! Needless to say, we were excited to review the Dive Into Your Imagination DVD and study guide.
Dive Into Your Imagination was started by Annie Crawley, aka Ocean Annie, to bring the ocean to children in all its beauty and color. Her goal is to help children (and adults) love the ocean and thus be inspired to protect and care for our environment and ocean.
In her training and career as a print and broadcast photographer, Annie traveled the world and discovered the magical world of the ocean. Ocean Annie lived and worked around the world as a scuba diving instructor and sailor, underwater photographer and cinematographer. She has poured her knowledge and experience into her own company, Dive Into Your Imagination, which features many resources sharing her love of the ocean and its inhabitants. One of these resources is a series of award winning DVDs aimed at preschool and elementary students featuring her exquisite photography and demonstrating her love for the ocean and the life found in it.
We received the DVD
Who Lives In The Sea?
I have to admit that my kids' first impression was that the music was very juvenile, but WOW, the underwater videography was breathtaking! If you have an ocean or an aquarium nearby, this DVD would be a great introduction to sea life before taking a trip there. If you do not have anything like that nearby, your students can experience the next best thing on this DVD. Ocean Annie has captured amazing videos of underwater sea life, and for all of your little Nemo fans, yes, his clownfish friends and relatives are in there! Each chapter of the DVD describes a different sea animal, and there is even a chapter about scuba diving that could lead up to a great field trip! A couple of things I love about the DVD, besides the fantastic videography, are the transcripts of the narration that are available as a special feature, and the ability to turn the narration off all together and watch the video accompanied only by the music. This can be a good option for older kids who would just like to watch the sea animals in the video. Incidentally, there is also a Spanish track on the DVD, if you would like to listen to the narration in Spanish.
While the DVD certainly got my kids' attention, the real meat of the curriculum is in the accompanying study guides. For each DVD, you may choose a study guide for PreK-K or for Grades 1-3. Since I have a 1st grader and a 3rd grader, I used the latter. Each chapter of the DVD is accompanied by a chapter in the study guide that you could use for an afternoon of fun or for a week of unit study. Pick and choose which ideas you want to use. Included in each chapter are: character education, a Treasure Chest of Vocabulary Words, questions and answers about what you watched on the DVD, an Imagination Play Script, classroom activity stations for further learning, ideas for further research and journaling, and a book list for further study. Would you like to turn your classroom into an ocean for a full year? You could do so with several of these DVDs and study guides, and you could incorporate your Language Arts, Geography, and Math all into these units.
I love the variety of activities that are included and how they can be integrated with other subjects. I also love the fact that all the types of learning are covered - visual, auditory, hands-on - and you can use all of the activities or just the ones that work best for your students. I love the fact that the study guide presents many interesting questions and activities in a way that is much more appealing than a simple workbook. I have only one warning for you: my 6-year-old now loves to make sounds like a sea lion, at any appropriate or inappropriate time!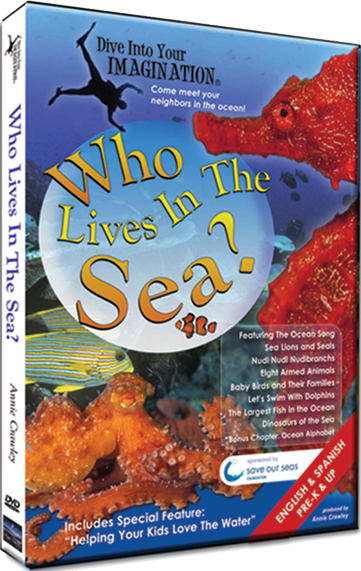 Here's the bottom line:
The Product: Who Lives in the Sea? DVD and downloadable PDF study guide (also available in print)
Accompanying Products: The series also includes Dive Into Diversity, Invertebrates of the Sea, and What Makes A Fish, A Fish?
Ages: Pre K-3rd Grade
The Educator Guide in printed form is rather expensive (likely because they were written with schools in mind) at $299 for both levels for each DVD. However, Annie is running a fantastic special for our TOS Crew blog followers! When purchasing any of the DVDs, if you'll mention in the comments that you homeschool and would like to have the PDF version of The Educator Guide, she will send it to you for free (a $70 value). Currently, she is also offering free shipping on the DVDs. This information is current at the time of posting, and I do not know how long it will last.
My fellow TOS Crew members reviewed this and the other three DVDs in the series. To read their reviews, see the TOS blog post
here
.
Disclaimer: I received a free DVD and Educator Guide from Dive Into Your Imagination in exchange for a fair review. No other compensation was given, and all opinions are my own.