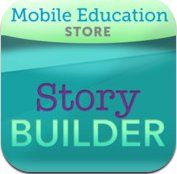 My email has been inundated lately with little stories, told in my daughters' voices, with funny little endings and giggling in the background. The most recent one involved a cowboy being eaten alive by a bear and coming out in the bear's - well, you probably don't need any more details. Let's just say the girls combined a language arts lesson with a science lesson on the animal's digestive system!
The source of the merriment is the Mobile Education Store's
Story Builder
App.
Story Builder is designed to help children accomplish the following educational goals: 1) Improve paragraph formation ; 2) Improve integration of ideas; and 3) Improve higher level abstractions by inference. Extensive use of audio clips promotes improved auditory processing for special needs children with autism spectrum disorders or sensory processing disorders.
Here's the way it works: my daughter chooses a story on the iPod Touch App. She sees a screen similar to the one below, with a picture, a question, and the beginning of an answer. When she is ready, she touches "Record" and says the answer with her own ending. When she finishes the whole story, all the little audio clips are integrated into a story, which she can then email to me or a friend.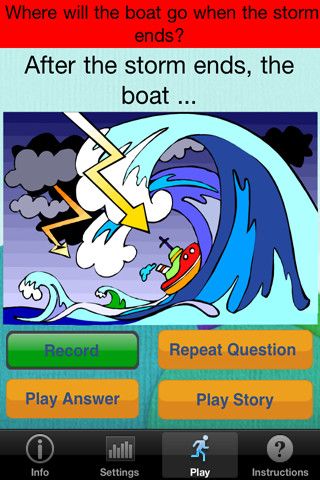 This fun little iPod App for the 4th Generation iPhone or iPod Touch includes audio and visual stimulation for all learning types. My daughters can work on their own and at their own pace - although they usually enjoy working on the stories together! They feel like they are just playing a game on the iPod, and as they continue to play and have fun with this, they truly are getting better at forming paragraphs and integrating ideas. The App has lived up to its advertising claims. I especially enjoy they way they are learning to end their short stories with a punch line or something funny!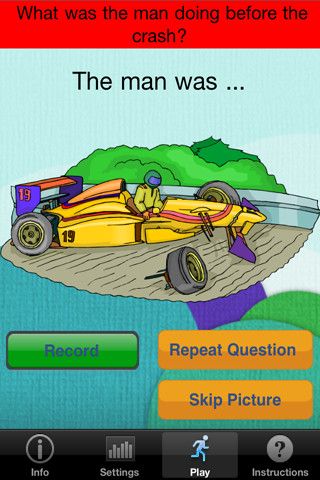 I was hoping to post one of their finished stories, but I don't believe I can post an Apple Quicktime file to Blogger. If you have a child who is age 6-10 and loves to compose stories or needs to work on composing stories, and if you have a 4th generation iPhone or iPod, I would encourage you to try this App out for yourself. If your kids are like mine, they always want to spend more time on their iPods, and I believe this App is well worth the $5.99 and the time spent on it!
The Important Info:
Price: $5.99
Ages: 6-10
The Story Builder App is listed in iTunes for ages 6-10, 10+. That pretty much covers my four kids! My 13-year-old was very excited at first that he would get to play with an iPod App and call it schoolwork, but once he saw it, he thought it was too juvenile and was not interested. My girls, ages 8 and 10, loved the App and are benefitting educationally from it. I believe my 6-year-old would enjoy it, but he cannot be trusted with an iPod yet - not even someone else's. In fact, especially not someone else's! I would say 6-10 is a good age range for the product, provided the specific children using the App are able to handle an iPhone or iPod.
Mobile Education Tools
makes several educational Apps that have caught my interest. Members of the Schoolhouse Review Crew had the opportunity to review either
Story Builder
or
Rainbow Sentences
for the iPad. Click the banner below to see the rest of the reviews.

Disclaimer: I received a free copy of the Story Builder App for the purpose of a fair review. No other compensation was received, and all opinions are my own.