If you've been reading my blog for any time at all, you know we love games! We were thrilled to get not one, but TWO games to review from NorthStar Games! The first was the
Wits & Wagers
family version. Here's what NorthStar has to say about the new family version of the popular party game:
Wits & Wagers Family simplifies the rules and scoring system of the popular Wits & Wagers. Now families and kids can get into the Wits & Wagers action! First, every player writes down a guess to a fun question. Then players try to score points by choosing which guess is closest to the right answer without going over. That is it!
The game features 300 new family-friendly questions. And even better than that, Wits & Wagers Family includes Meeples-- fun, cute, human shaped wooden pieces that the players use to select which answers they think are correct. Meeples have been a hallmark in European style strategy games for years, but this is the first time they have made an appearance in a party game.
So check out Wits & Wagers Family, the game that combines laughter and learning in a way that all ages can enjoy together!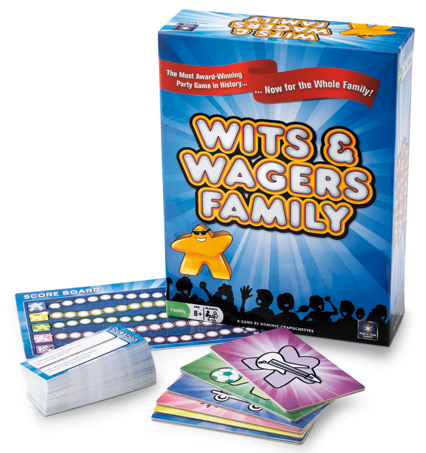 My kids love this guessing and wagering game, with it's bright colors, fun "meeples," and easy dry-erase cards. The box says the game is for 3-10 players, ages 8+, but my 6-year-old comes in first or second place just about every game. Since you don't have to actually know the numeric answers to the trivia questions, and you get points for choosing the player's answer that is correct, he frequently picks the player who he thinks would know the answer, and he scores points. For instance, he wagered on his Boy Scout brother's answer on the Cub Scout question, and depends on Mom to be right about the year certain TV shows came out. He had everyone betting on his card, however, when the question asked about the number of characters in a Wii Mario game - his area of expertise!
Anyone who enjoys trivia games or party and family games will love the fast-paced
Wits & Wagers
from NorthStar Games. You can find more information at
http://www.northstargames.com
. The list price is $19.99, and the stores that carry the game are listed on the website when you enter your zip code. You may also purchase the game
online
. To find out what other TOS Crew members thought of the game, click
here
. To see another offering from NorthStar Games that my kids liked even more, check back tomorrow!

Disclaimer: I received a free Wits & Wagers Family game from NorthStar Games for the purpose of review. No other compensation was given, and all opinions are my own.