I think every mother says it at some point: "If someone would just tell me what to fix tonight!" Or we start to fix something and then realize we are missing one ingredient. Frustrating! I have been trying to fix low-carb meals for our family, but sometimes those garlic crescent rolls are SOOO tempting!
Whether you are trying to stick to a diet, trying to find some new recipes for your dinner table, or just trying to save money on groceries,
E-mealz
has something for you! Once you join this subscription menu-planning service, you can download your new menu and grocery list each week. There are menus based on the specific sales at the following grocery stores each week: Kroger, Publix, Wal-Mart, ALDI, & Ralph's (CA). If you do not shop at any of these stores, you may also choose the "Any Store" low-budget plan. If your family has special needs, you may also choose a Gluten-free Plan, Low-Carb, Low-Fat, Portion Control, or Vegetarian. And if your family is not that large or the kids have flown the nest, there are menus with meals for 1 or 2. With this ability to personalize the menus to the special circumstances of your family, these plans have something for everyone!
When you download your menu each week, you will also get a convenient grocery list, all on one page. I chose the low-carb, any-store option. My family has enjoyed the new dishes, and my kids have even made some of them. I love the fact that grill recipes and slow cooker recipes are included, as I use those frequently. This service is helping us to eat healthy dinners at home more often, with less fast-food when my schedule gets crazy and I just don't have much time to think about fixing dinner!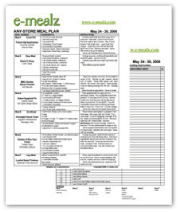 You may subscribe to this menu service at https://e-mealz.com/amember/signup.php for just $5/month! See what other TOS Crew members had to say about the service here.
Disclaimer: I received a free subscription to E-mealz for the purpose of writing this review. No other compensation was given, and all opinions are my own.
Happy cooking! :)