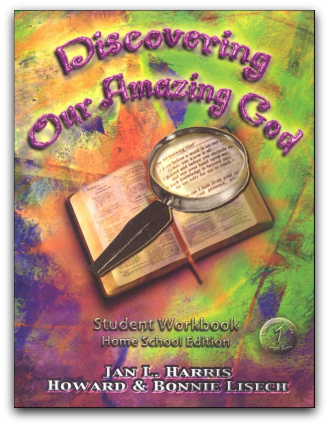 I was given the opportunity to review
Discovering Our Amazing God
by
Deeper Roots Publications
. I received the Homeschool Edition of the Student Workbook and of the Teacher's Guide in the mail. This Bible curriculum is for 7th-9th Grade. The content is divided into nine lessons on topics such as "Discovering God's Wisdom" and "Discovering God's Faithfulness." Each lesson includes a Scripture passage and questions that can be answered in the workbook and/or used for discussion. There are also guidelines for journaling, and each student is encouraged to keep a journal. Besides studying the various passages about the characteristics of God, there is a strong emphasis on missions. The students learn about Muslims, Hindus, Buddhists, and other unreached people groups, and what missionaries are doing to reach them.
This curriculum is well-laid out and organized. I love the fact that every section is completely rooted in Scripture. (Perhaps that goes without saying, since it is a Bible curriculum, but I do find the complete use of Scripture with very little author opinion refreshing.) I also love the emphasis on missions. I think it is important for today's children to learn about people who follow other religions, to learn what they believe, and if we as Christians disagree with them, to learn why. We live in a smaller world than the one in which I grew up, and even at their young ages, my children have already known friends from Jewish, Muslim, and Buddhist backgrounds. It is important for my children to understand what their friends believe, and how to talk to them about Christ when the opportunity arises. (This curriculum does not cover Judaism, as that is not an "unreached" people, but we've studied that in other places.)
Jan Harris and Howard & Bonnie Lisech, of
Deeper Roots Publications
, did a good job in leading students to study the characteristics of God for themselves, and also in applying that study to the field of missions. If your middle schooler (or even high schooler) has studied the stories of the Bible in children's books for years and is ready for a meatier study with applications to the present day, this curriculum may be for you. It is one that we will continue even when the review is over.
There are four books in this Deeper Roots series, of which I reviewed the first. Also available are:
Discovering Who I Am In Christ
- Book 2, 7-9th Grade Bible Curriculum
Discovering Christlike Habits
- Book 3, 7-9th Grade Bible Curriculum
Discovering Christlike Character
- Book 4, 7-9th Grade Bible Curriculum AND
Rooted & Grounded
- 10-12th Grade & Adult Bible Curriculum.
These books, and other resources, are available at
http://www.DeeperRoots.com
. You may also contact the company via email, at
DeeperRoots@aol.com
, or at Deeper Roots Publications, 2100 Red Gate Rd., Orlando, FL 32818, 407-293-8666.

The
Discovering Our Amazing God
Teacher's Guide is $28.95, and each student workbook is $19.95.
To see what other TOS Crew Members thought about
Discovering Our Amazing God
and other books from the series, go to the
TOS Homeschool Crew Blog
.
DISCLAIMER: I received a free copy of the
Discovering Our Amazing God
Teacher's Guide and Student Workbook for the purpose of review. No other compensation was given, and all opinions expressed are my own.