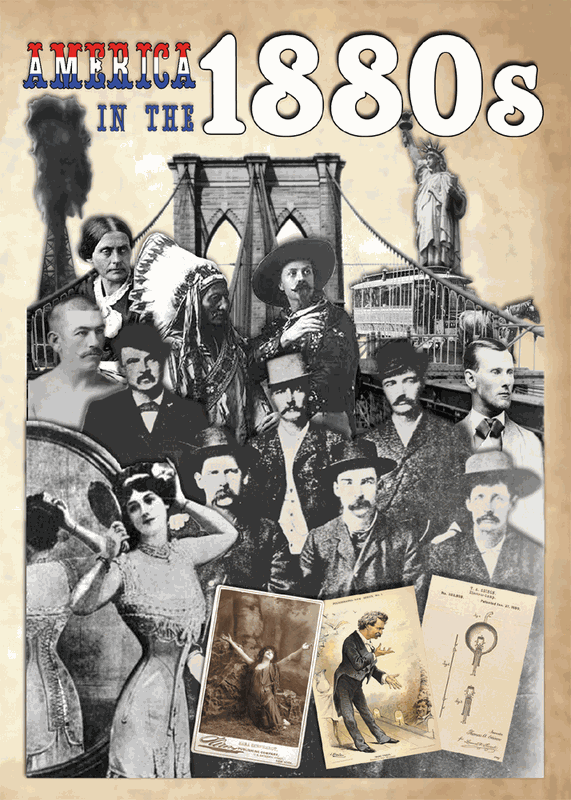 I must admit that as I finished up with our study of The War Between The States (sorry, I'm a southern girl!), I was about to shamelessly plug on toward the turn of the century, glossing right over the decade of the 1880s. After all, what thing of any importance happened in the 1880s? I mean, you know, besides the completion of the Washington Monument, the gift of the Statue of Liberty from France to the United States, the invention/development of the telephone, and a few dozen other things I seem to have forgotten learning about in my own history classes?
Luckily for me,
Marshall Publishing's
DVD
America in the 1880s: A Decade of Progress
came at just the right time. I started out thinking I would just show my kids the DVD one afternoon as a quick survey of the decade. As we watched, however, I realized how much our other curriculum was missing that I needed to cover. I ended up using it as the structure for a unit, showing the DVD in clips; we would watch a segment and then learn about that part, and then watch another segment. We used the free study guide from the
website
, then branched out from there. I used the study with all of my children together, from 2nd through 9th grade.
This DVD brought a tremendous visual aid into our studies. It uses a combination of live re-enactments, actual historical photographs, documents, and photos of buildings and other objects that have survived since that time period to teach about the decade. The kids enjoyed trying to figure out which pictures and videos were original and which were newer (the little ones did not realize that the modern video re-enactments could not have actually been filmed in the 1880s, so that in itself was something they learned). In addition, we are blessed to have pictures of my husband's family that date to that time period, which I showed to the children.
America in the 1880s
provided a comprehensive look at well-known facts as well as little-known trivia from that decade. It included famous people, architecture, inventions, tools, sports, clothes and style, politics, railroads, Indians, outlaws, unions, music, authors - just about anything you could hope for in a unit study about a decade. My daughter was fascinated by the fashion, while my oldest son was interested in the baseball trivia he could later discuss with his dad. He's glad we no longer think that "real men" don't use catcher's mitts in baseball!
We also enjoyed the bonus feature: an old film from the archives about the life of Alexander Graham Bell. In addition to talking about his inventing the telephone, the film documented his work with the deaf, which was extraordinary for his time.
Marshall Publishing's
America in the 1880s
DVD could be used as a stand-alone survey documentary, but I would encourage you to use it as a catalyst to a larger study covering those years. The mixed media used in the program really helps to bring history to life.
Here's what you need to know in a nutshell:
The Product:
American in the 1880s: A Decade of Progress
DVD
Vendor:
Marshall Publishing
Website:
http://www.marshallpublishinginc.com
Ages:
All ages
Price:
$24.95
currently on sale for $19.95!
In addition, just to thank you for reading the blog review, Marshall Publishing is currently offering free first class shipping on the DVD (a $7.95 value). Just use coupon code TOS27 at checkout!!
Marshall Publishing
produces a number of educational helps to be used alone or in conjunction with other curriculums. Last year, I enjoyed the opportunity to review the book and CD for
Lots and Lots of Firetrucks
, which I also used as part of a unit for my first-grader. TOS Crewbies have reviewed several of Marshall Publishing's DVDs over the past few weeks. To see what they reviewed and what they had to say, click the banner below.

Disclaimer: I received a free copy of the America in the 1880s DVD for the purpose of a fair review. No other compensation was given, and all opinions are my own.