The Internet is now a part of our daily lives. I would not want to get rid if it, as my family and I have received many benefits from the information we can glean there, the communication with friends and family, and the quick access to educational tidbits. As we all know, however, this great tool has opened a portal of danger into our homes for both ourselves and our children. I have tried to take precautions. Our family desktop sits in the middle of the family room and has an extra-large screen. I can walk by and see what my kids are up to at any time. I limit their time on the computers, check the histories periodically, and do not allow them to take our school laptops to their bedrooms. We have talked extensively about Internet safety. I have let them know that nothing they can do online is completely private or secure, and because I know that other people can see these things, I will regularly read their Facebook messages, emails, etc. They may have privacy in other areas of their lives, but privacy on the Internet is an illusion, so if they know I will see what they type or post, they will be careful what they put there.
I have found a new tool in my battle to keep my kids safe online: Action Alert. Action Alert is really 8 Internet safety tools in one: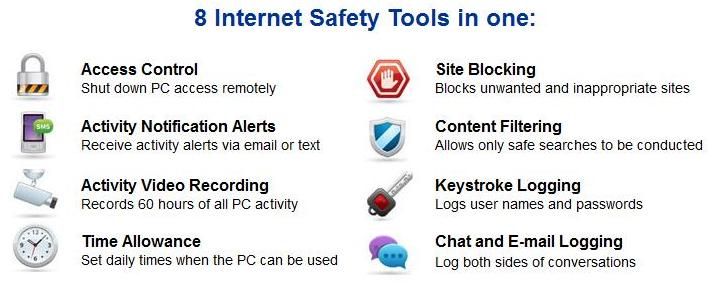 I installed the downloadable Action Alert software on my son's school laptop a little over a month ago. We just got a new laptop for my daughter, and I plan to install it there as well. The installation was fairly easy after I read the instructions. Once installed, it records everything my children do in any program on the computer. I could choose whether to "ONLY" allow access to certain sites on the Internet, which I think would be a very good choice for younger children, or whether to "BLOCK" certain sites. There is a master list of sites that Action Alert automatically blocks, unless you turn that option off, and I added some sites that I did not want my children to be able to visit.
Now, to be honest, my son is fairly responsible with his Internet activity. Knowing that I am monitoring it helps reinforce his own self-control. So, for the whole time I have had Action Alert installed, I have received no notifications of any suspicious activity. Wanting to make sure the program was doing what it was supposed to, I decided to test it a bit myself, after notifying my husband that he may see a few undesirable sites on the browser history when he checked it! I did my best to put myself in the mindset of a curious teenage boy, and I typed "pornography" into the Google search box. The Google search screen did come up, and there are "teasers" in the first few lines of some of the sites that I would not wish my child to see, but the images were blurred, and when I tried to click on several pornographic sites, I received a message that the content was blocked. I tried again with "Playboy" and "Penthouse" with the same results. "Maxim" and "Victoria's Secret" were not blocked, so I added them to the list on my "Action Alert Manager." Then, "DING!" Two emails popped up in my inbox, telling me that my son (I) had searched for the terms "pornography" and "playboy." Obviously, the list was not completely exhaustive, but it is definitely a good start.
I then logged back into the parental manager and was able to peruse the last 60 hours of my children's activities on that laptop. The activity was in the form of a video that showed me every keystroke the children had made in their schoolwork, games they played, and Internet searches for the past month. My son came in while I was watching this video at fast-speed, and he asked what I was doing. When I told him, he just said, "Oh." The completion of my inspection confirmed that he was not worried because he had nothing to hide. Good to know, and I hope he stays this responsible throughout his teenage years, but I know that those temptations can become heavy even for grown men, so I will continue to assist his own conscience!
There are also options within Action Alert to shut down the PC remotely, and to set time limits on PC usage. When the PC shuts down because of being disabled by Action Alert, non-saved information should not be lost.
Action Alert has received several awards, and it is endorsed by the Child Safety Network.

At present, Action Alert only works on Windows-based PCs. I wish there were a Mac version available, as that is what we use mostly. We have two Windows-based PCs on which the children do schoolwork, as their curriculum also only runs on Windows, but our family desktop is a Mac, and the children have iPods. We turn off the Internet on their iPods when we are not monitoring them, but a program like this for the iPod would be wonderful!
I would caution any parent that no software can make your computer completely "kid-safe." As I mentioned earlier, this program prevented access to Playboy and Penthouse, but not to Maxim, which can be almost as bad in my opinion. I added that one to my "blocked" list, but I'm sure a curious teenage boy could continue to search and find some site that neither I nor Action Alert had thought to block yet. No software can replace a parent's vigilance in keeping the children safe, but tools such as Action Alert can certainly help.
There are two versions of Action Alert available:
Free Version - Free is always good, right?? Action Alert offers a 100% free version that many parents feel gives them the amount of protection and peace of mind they need - and for good reason! The free version offers more protection than you would otherwise pay $40 per year for or more with other products. It includes a web filter to ensure safe searches, website blocking that prevents access to a constantly updated list of websites, time use controls - it even sends texts or e-mail alerts when dangers are detected. All of this PLUS free tech support where calls are taken at the Arizona based support center by the friendly staff.
Maximum Protection - Action Alert sends a message to your cell phone or e-mail when an event occurs that you should be aware of. This message lets parents know they should take a look at the computer and probably have a talk with their young computer user. The Maximum Protection version simply gives parents a much more complete set of tools to see the details of the missteps their child or teen took online, or in some cases provides usable evidence of interactions when they were targeted by a wrong-doer. From the moment the 100% free version is installed, the technology goes to work recording the computer activity of your protected user. If needed, you can activate Maximum Protection and watch everything that happened like watching a DVR. The Maximum Protection Version is fully customizable, offers multiple user protection, and offers full social network monitoring.
Action Alert is appropriate for any age group. You cannot start protecting your child too young. The Maximum Protection Plan is just $29.99 at
www.actionalert.com.
Other TOS Crew Members also reviewed the Action Alert software. You can read what they thought about it
here
.
Disclaimer: I received a free Maximum Protection version of Action Alert in exchange for a fair review. No other compensation was given, and all opinions are my own.