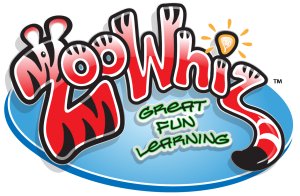 For the past several weeks, my younger two children have had the great privilege of reviewing a Premium Zoologist account from
ZooWhiz
, a really fun and motivational learning website. They each were able to pick a "zookeeper," the character they would use on the site, and then they could play games and take quizzes in math, words, and reading in order to collect points and coins with which they could buy animals for their zoo.
Homescreen with a map of the Zoo
This is pretty much the perfect learning website for both of my younger children, ages 7 and 9, because they absolutely love real animals, stuffed animals, computer-animated animals - basically any kind of animals and zoos!

Zookeepers from which the students may choose
After choosing a Zookeeper, the students may go to the "Arcade" to play educational games, the "Learn and Earn" to take quizzes, "Milestones" to see their progress, or the "Biodome" to purchase new animals for their zoo with the coins they have earned. The bar across the bottom of the home screen shows the number of coins earned, the number of animals in the student's zoo, the zoo level the student has achieved, and the number of educational points earned. The educational levels are broken down by age rather than grade, which I think is more helpful to me as a homeschooler, since we don't always work by grade levels. The child may work in an age range, and the "bottom level," or the easiest questions that should be given to that child, is set by the parent. If the quizzes and games prove to be too easy or too difficult for the child, the parent or teacher can easily change the level from the parent account.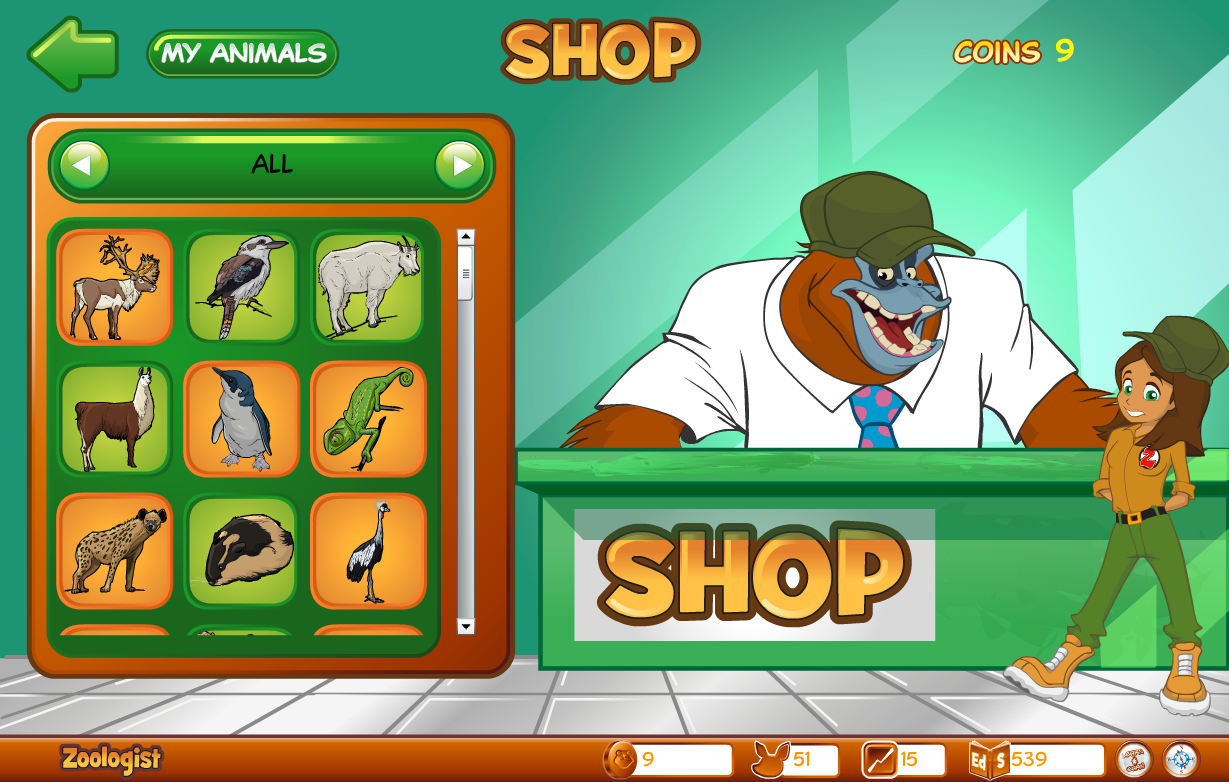 The "Biodome" - Zoo shop
In addition to practice in math, words, and reading, the student will learn facts and conservation information about the animals in his or her personal zoo. I will admit that I had to push my daughter to take the quizzes so that I would know a little bit about them for the review. She and my son were much more interested in the games and in learning about the animals. They asked to play almost every day, and were absolutely thrilled that I was including such a fun activity as computer work that they were allowed to do during school hours!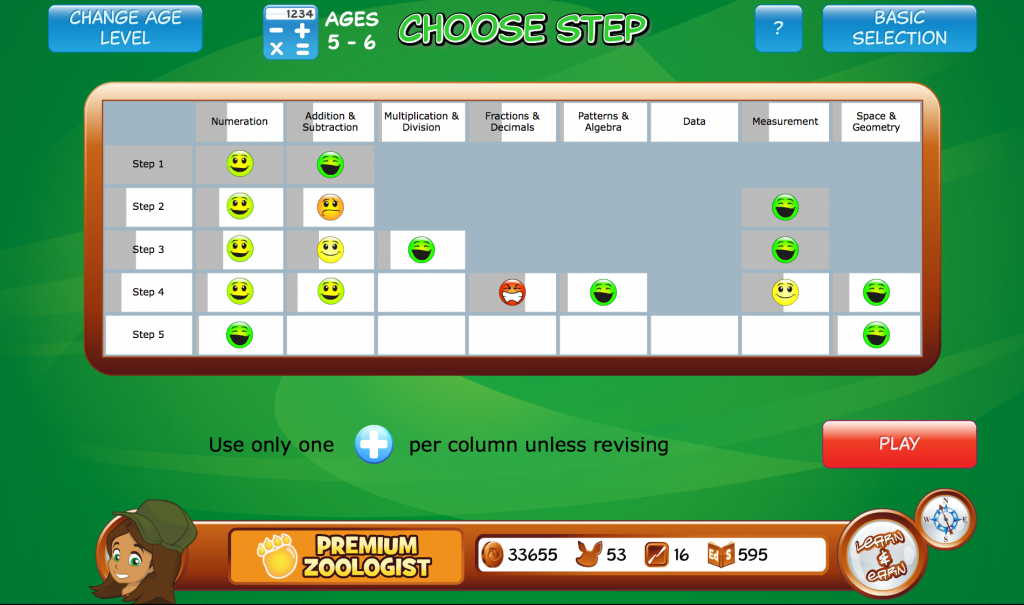 Progress Report
Zoo Whiz
is already used in schools and homes in several different countries. They are currently in "Early Release Stage 2," and they are adding new content continually. All of the content loaded and worked just fine for us. In the future, I should be able to view my kids' progress and assign specific work to them from my parent account, which is linked to their child accounts. I look forward to being able to do that. I would love to be able to occasionally assign quizzes on various concepts in Zoo Whiz in lieu of our regular paper-and-pencil quizzes, as a break from the normal routine. For the time being, I just log directly into the kids' accounts to review their progress.
Here are some sample activities in Math, Words, and Reading, respectively. These are some of the easier activities. The actual levels cover ages 5-15.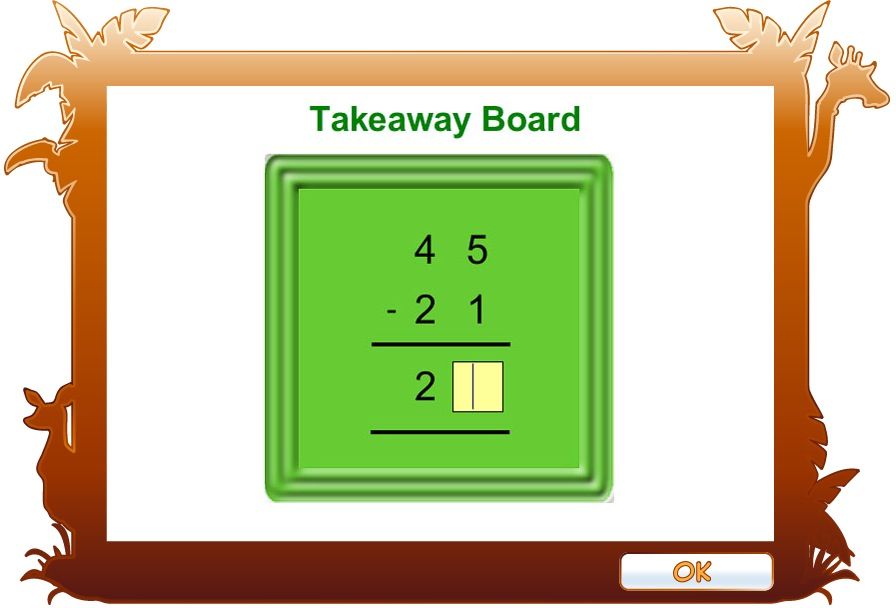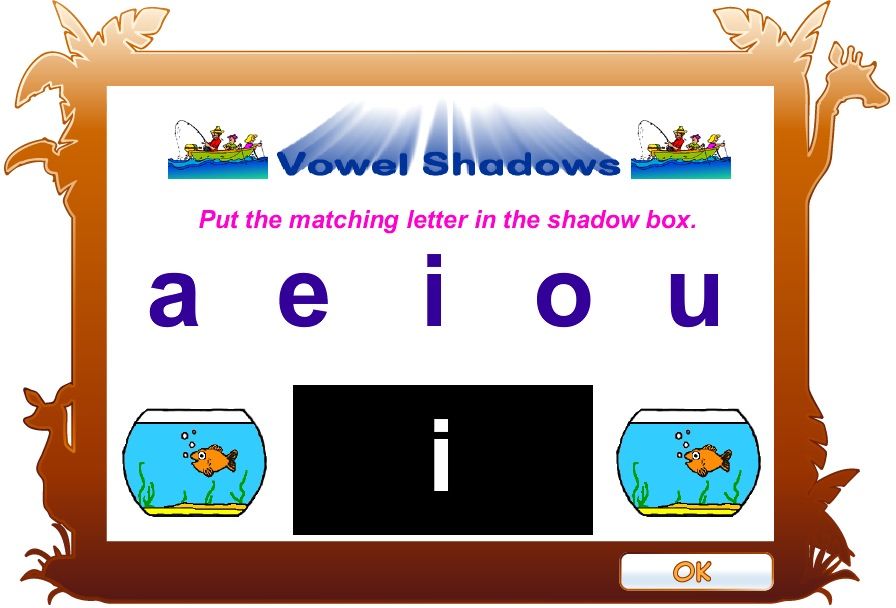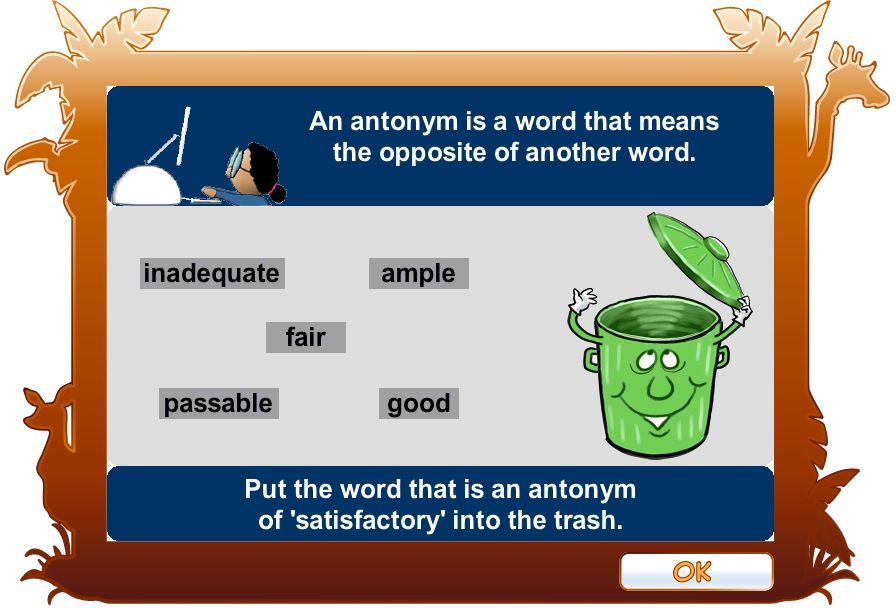 I originally thought I would just be reviewing one account for my 9-year-old daughter, but
Zoo Whiz
was very gracious to offer premium accounts for all four of my children. The customer service was outstanding. I did set up accounts for all of my kids, but my older ones were not as interested. My 13-year-old was not interested at all, and I did not assign him any activities, since I had really planned to review this for my younger daughter. My 11-year-old daughter loves zoos and animals and was mildly interested, but has not used Zoo Whiz on a regular basis. My 9-year-old daughter and my 7-year-old son fell in love with the program and beg to play it. I highly recommend the website for children ages 5-10.
You can try a free account from
Zoo Whiz
, which my daughter was already enjoying before she got the Premium account, but I'm sure you'll want to upgrade and enjoy all the features of a Premium Zoologist account. Now is the time, while a one-year subscription is on sale for $14.95, which is a savings of 50%!
Here is the information you will need:
The Product:
Zoo Whiz
educational website
Ages: 5-15
Price: $14.95 for annual subscription (current sale)
Click the banner below to see what my Schoolhouse Crewbies thought of the program:

Disclaimer: I received a free one-year Premium Membership subscription to Zoo Whiz for the purpose of a fair review. No other compensation was received, and all opinions are my own.