I've said "just a few" times that my kids love learning with games, and I love using them for teaching!
Samson's Classroom
is a fun learning website for early language arts. While some learning websites have so many games that you wonder if the kids are learning anything, and others are straight learning so that the kids do not perceive them as "fun," in Samson's Classroom, the learning itself is the game. There is just enough "education" for me, and just enough "fun" for my kids!
Samson the Dog helps kids practice sight words, spelling, and reading.

In the Sight Words section, your child works through four levels of seven "sight words" lists each. Each list is learned in five steps. The first step is simply studying the words on the list. The student looks at each word, watches it being spelled, listens to the pronunciation and spelling, and listens to a sentence with the word in it. In any of the study sections on the site, the student may stay on a word as long as he needs, or move forward whenever he is ready, which I really appreciate, because it is difficult to get my son to work on things when they move either too quickly or too slowly for him and he gets frustrated. In Step 2, the student listens to the word being spelled, then clicks on the proper letters, in order, to spell it himself. In Step 3, the student identifies the words as they are spoken and used in a sentence. In Step 4, the student again clicks on letters to spell each word, but this time, the word is used in a sentence but not spelled out loud. In addition, all the letters in the alphabet are provided as choices, rather than just a few of them. Step 5 again involves identification of the words, and some choices given are incorrect spellings of that word. By the time your child finishes all five steps, he or she has mastered that list of sight words and is ready to move onto the next list. While working through the lists, the student also works through different colors of karate belts, so that when she is done, she will hold a black belt in sight words!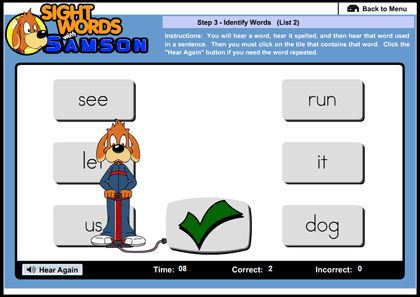 In the Spelling section, the parent/teacher may put in her own lists of spelling words. If you want to use any spelling words that are not recognized in the program (for instance, I made a list of the books of the New Testament for my daughter to learn to spell, some of which were recognized and some were not), you may request that the words be recognized and submit your list for review. Again, the first step for the student is to study the words on the list, which may be done on the computer, or there is an option to print the list out. There are then three games to help the student first fill in missing letters, then collect letters and put them together, and finally spell the whole word on his own. The games are fun and move fairly quickly to hold interest. If you are not quick enough, you can be caught in a spider web (that happened to me a lot!) or tackled by a walrus and turned into an ice cube! Also, you compete against other people in your classroom (or homeschooling family) for the highest scores and Championship Belt. The parent can also play in order to give some healthy competition!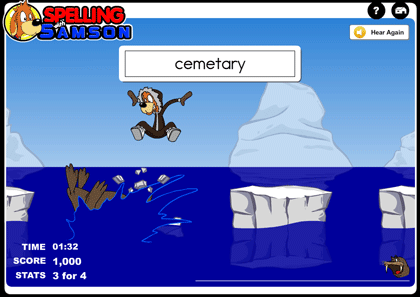 The final section is Reading. I had my 4th-grade daughter work through this one so I would be able to review it, as my 2nd-grade son is still working on his Sight Words black belt and the Spelling. I think he could do the Reading section as well, as he is actually a pretty good reader, but he is working through the games more slowly. In the Reading section there are four levels. In each level, you select each passage, read it, then answer the questions about it. Some are direct questions and some are based on inference. As someone has pointed out, the reading comprehension section is a great preparation for standardized testing. Mastering the reading passages earns the student "Hammer Time swings." The Hammer Time game then awards "Hammer Points," which may be compared against the "Top 5" scoreboard.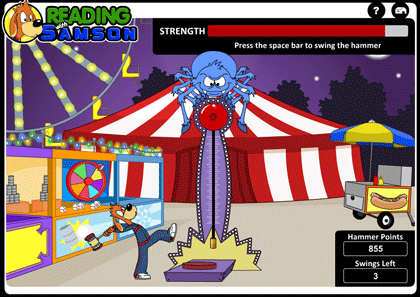 Samson's Classroom
offers a number of resources to the parent/teacher. In addition to being able to produce your own spelling lists for the games in the Spelling section, there are articles about literacy and learning, printable awards and certificates to be given to students, included lesson plans, and printable PDF worksheets. I love the resources for playing Bingo or Sight Words Baseball. You can see your students' progress and also how many attempts it took them to master the problems from your dashboard.
Samson's Classroom
is recommended for children in the K-5th grade reading level. Sight Words is geared more to the younger end of the age range, while Reading Comprehension is geared more towards the upper end of the range. I allowed my 4th-grade daughter to skip the Sight Words section, as it would be quite easy for her, and she completed all 4 levels of the Reading Comprehension section in about 2 days. I can still use the Spelling Section for her throughout the year as a fun way to practice her new spelling list each week, which is a great tool. Other than that, though, the program is a bit easy for her. It is a fantastic program for my 2nd-grader, who is still working on his Sight Words black belt and the Spelling section. I believe it will take him the full year to finish the whole program. As I was sitting here writing the review today, he tried to kick me out of the computer chair so that he could play the game!
I highly recommend Samson's Classroom for kids in the K-3rd grade reading level, and higher if they enjoy these types of games and would like to use them for spelling words and reading comprehension practice.
Here's the basic info:
Ages: K-5th grade reading level
Price: $30/year for one user or $50/year for a family plan (up to 4 students). There are also school and classroom plans available.
To see what my fellow Crewmates thought of Samson's Classroom, click the banner below.

Disclaimer: I received a free subscription to Samson's Classroom in exchange for a fair review. No other compensation was given, and all opinions are my own.