Most of my homeschooling friends agree that one of the most important things we can teach our children is
Character
. One of the great benefits of having our children with us most of the time during their growing-up years is being able to instill and demonstrate consistent values, which we hope will serve them for a lifetime. I am always looking for products that share our values and worldview, so I was excited to have a chance to review a few products from We Choose Virtues.
We Choose Virtues does not offer a curriculum or unit study to be used as a stand-alone subject. Instead, their products can be used ongoing from year to year, as a supplement to your curriculum. Their goal is "Simply Inspiring Character That Lasts." The products I reviewed are for elementary and early childhood ages, but the company also offers products for teens.
We Choose Virtues uses fun characters like Feather Heather, Oboe Joe, and Hat Matt to teach Virtues such as: Obedience, Forgiveness, Helpfulness, and Self-Control. There are 12 Virtues in all. For each, the children learn a catchphrase and the antonyms. These help children learn how to demonstrate the Virtues in their lives, and how to answer someone who tries to get them to do wrong. The fun, brightly-colored Virtue Clue Cards illustrate the Virtues, the catchphrases, the antonyms, and the characters. These are great for carrying from place to place in a purse or schoolbag so that you can review them at any time. I must confess, however, that although my children love the cards and the bright colors, I have a hard time keeping up with them and have lost them several times!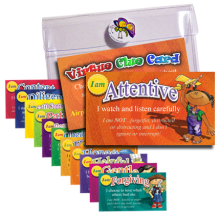 The downloadable products are much more useful to me. They are always accessible on my computer (or my iPad when my husband buys it for me!), and I can print them when I wish. I received a downloadable Teacher's Guide, with excellent ideas for teaching the Virtues to different ages; a Family Character Assessment Chart, of which I can print out multiple copies so that we can track our progress over time; a Kids Coloring Book, which is wonderful for my youngest to use while the older ones are discussing the Virtues; and A List of Memory Verses, Bible Heroes and Truths to go along with the Virtues, which I found most valuable. Together, these items make a great package that I can use every day with my children, or a few times a week as our schedule allows. They could also be used as reinforcement along with a character program that you already have in place, and they could be tied into unit studies on character, Bible heroes, or the Fruits of the Spirit. They are very versatile to be used as a stand-alone or in conjunction with other curriculums.
We Choose Virtues also has posters, charts, flashcards, stickers, and other classroom helps for the homeschool or classroom. They can be purchased separately or in packages conveniently assembled for homeschool, Sunday School, faith-based school, or community school. You may even want to use a pack of the cards or a poster for family discussion if your children are in a school that does not use them. See their
website
for a complete list of products and prices. For a limited time, there are several items on SALE:
2011

Kids Virtue Poster $9.75 (from $14.99, 35% savings)
2011 100 Days of Virtue Chart and Butterfly Stickers $11.99 (from $14.99, 20% savings)

2011 3 Rules Poster

$7.75 (from 11.99, 35% savings)
There is a CLEARANCE category on the website only while supplies last.
Also,

The Virtue Clues are $5.99 (from $7.95).
We Choose Virtues products are welcome new pieces of my total curriculum. You can find more information on their website at
http://www.wechoosevirtues.com/
, and "Like" their Facebook page
here
. To see what other TOS Crew Members thought of their products, click
here
.
Disclaimer: I received free products from We Choose Virtues in exchange for a fair review. No other compensation was given, and all opinions are my own.