At left is the pattern for a poinsettia brooch that you can make out of pumpkin seeds and navy beans by following the directions
here
. Why is that a great project for your Spanish class? Because in Mexico, Christmas Eve is known as La Noche Buena (The Good Night), or Poinsettia Night. Here is the story:
There is a famous story in Mexico of a poor child who did not have a gift to lay at the altar on Christmas Eve. He saw some leaves and branches near his home and took them to the church as an offering. Some people snickered at his modest gift. However, after laying the leaves down at the altar, they miraculously turned a beautiful red! Hence, Christmas Eve is called the 'Noche Buena' in Mexico!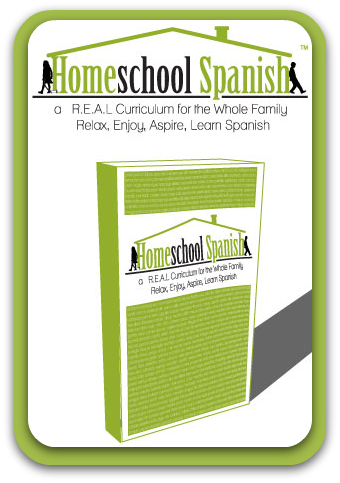 The "R.E.A.L." in the title stands for Relax, Enjoy, Aspire, and Learn Spanish. The idea is that children (and adults!) will learn a new language best when they are able to relax and enjoy the learning process. They learn by beginning with conversation and concentrating on the application of the language more than the grammar to begin with. To quote from the developers of the curriculum:
We believe that a relaxed environment encourages positive language learning. Too much grammar and too much emphasis on perfectly correct speech hinders the enjoyment and progress of learning. Slow and steady practice promotes correct speech over time. For these reasons, we have limited our grammar sections to the minimum and stress communication and enjoyment first.
When I took Spanish in high school, I learned spelling, grammar, noun cases, and verb tenses ad nauseam. I studied, did well on my tests and passed the class with flying colors; yet when I went to Spain and tried to speak to people, it was very difficult. I had not learned to carry on a conversation in that language. Now that we are military and know many people learning new languages as adults to go overseas, we realize that an immersion technique is the best way to learn a new language; yet it is hard to completely immerse your children in a second language in your own home, especially if you do not speak the language yourself.
Homeschool Spanish: A REAL Curriculum for the Whole Family
is a practical teaching method that works in a home environment. First of all, the parent does not have to speak Spanish to begin. You can learn right along with your child. Secondly, all kinds of activities are offered to help integrate your Spanish studies with your other activities. Geography, History, even Math - there are ideas offered in the Curriculum Guide for activities in every subject to correlate with what you are doing in Spanish. The curriculum is suitable for any age, as your youngest children can begin learning conversational Spanish simply by listening to the audio files, and older children can do the activity book and other projects. Even high schoolers and adults can learn the language with this relaxed method, and a High School Supplement is due to come out soon.
We reviewed the downloadable version of the
Homeschool Spanish
curriculum. We received a complete curriculum to download, including a Curriculum Guide with detailed lesson plans and extra ideas, a PDF Spanish book, a black & white version of the Spanish book for printing, a PDF activity workbook, an activity answer book, and all the audio files needed for the units. This downloadable version, without the Curriculum Guide, is on special for $49.95 right now on the
Homeschool Spanish website
. There is also a bundle that includes the Curriculum Guide for $59.95, and hard copies of the curriculum are available. Click
here
for all package pricing.
There were several things I especially enjoyed about this curriculum:
1) It concentrates on teaching conversational Spanish, which can be applied and used in real-world situations, without neglecting the grammar that needs to be taught.
2) It promotes interaction among the members of our family and can be used with all ages together in a relaxed atmosphere.
3) The various tools used to teach the second language incorporate all the senses and appeal to every type of learner, whether your students are visual, auditory, or more hands-on learners.
4) There is a good balance of work that I do with my children and work that they are able to complete on their own. There is very little prep work that I have to do beforehand.
5) The newsletters we receive monthly are a fantastic supplement to the program and contain a lot of fun and useful information.
6) To be honest, it's just fun!
To see what other TOS reviewers thought about the product, click
here
.
Disclaimer: I received a free downloadable version of the Homeschool Spanish curriculum. No other compensation was given, and all opinions are my own.