My kids love all kinds of music. I have taught piano and I direct children's choir, so I have tried to expose them to a wide variety. While they may be the first to jump up and sing, "I pump my fists (watch me)/ I slide and switch (watch me)," and unfortunately know all the words to the "Friday" song, they also love hymns, old Broadway, and classical music. So maybe I'm getting a little culture in there! Like me, one of their favorite classical composers is Peter Ilyich Tchaikovsky, and my girls and I just enjoyed a live performance of
The Nutcracker
right before Christmas.
It was a treat, then, to have a chance to review The Story of Swan Lake, by Tchaikovsky, from Maestro Classics! Maestro Classics produces the Stories in Music series of CDs with classical music, performed by The London Philharmonic Orchestra, set to narration to explain the accompanying story to children. Available titles also include Peter and the Wolf, The Sorcerer's Apprentice, My Name Is Handel: The Story of Water Music, and others.
First of all, I appreciated the fact that the CD performance was excellently done. Too many times, I have purchased CDs made for children, only to discover that the music is terrible and we will probably not listen to it more than once. Not so with Maestro Classics. You cannot miss when you perform with The London Philharmonic! Secondly, having the narration really does help the children understand and appreciate the ballet. The CD also contains a teaching "About the Music" section that I found very worthwhile, and a "sing-a-long" with simple words for the children to sing along with the music. These things all help the children to better enjoy and remember the classical music. There was also a rendition of "Speed Metal Swan" with electric guitars. My children and I did not particularly care for that piece, but if you have children who only like modern music and do not want to listen to classical, they may enjoy the classical piece set to "speed metal"!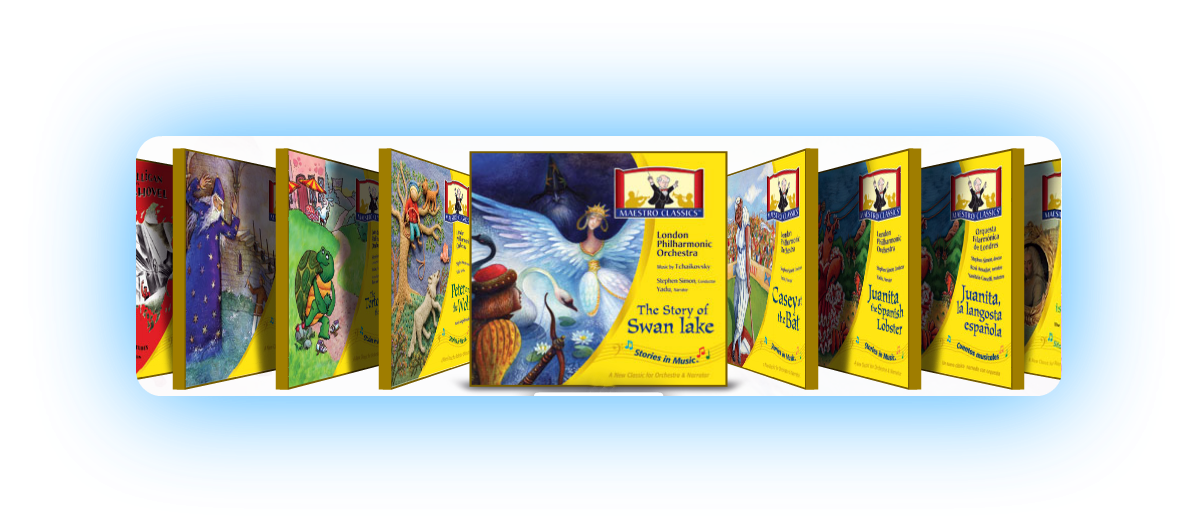 Although Stories in Music is designed for children ages 5 to 12, you may find that even as an adult, you enjoy and learn from these CDs! You may purchase
The Story of Swan Lake
CD from
http://www.maestroclassics.com
for $16.98, or the MP3 download for just $9.98. A 24-page activity book included with the CD contains a biography of Tchaikovsky, information on acoustic and electric guitars, sheet music and words for a sing-along song, explanation of major and minor keys, puzzles and more. MP3 download from Maestro Classics website includes a PDF of the activity booklet. The other titles are also available, as are several package deals if you would like to purchase several CDs at once at a discount. If you would like to use these CDs for unit studies or as a part of your ongoing music education, you may find the free educational materials provided on the website (click
here
) helpful. They include all kinds of curriculum guides, videos, further research, and projects to accompany the CDs, as well as links to purchase lapbooks from A Journey Through Learning that were specifically written for Maestro Classics CDs.
As a lover of classical music, I highly recommend Maestro Classics' Stories in Music CDs for everyone of all ages. To find out what other TOS Crew members thought of
The Story of Swan Lake
, click
here
.
Disclaimer: I received a free copy of The Story of Swan Lake CD for the purpose of a fair review. No other compensation was given, and all opinions are my own.