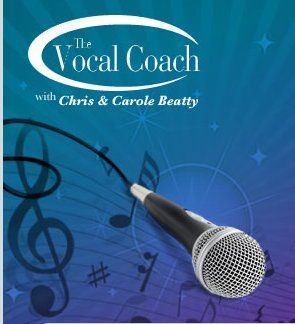 I am excited to tell you about our last product reviewed for 2012,
The Vocal Coach
with Chris and Carole Beatty. While some of my Crewbies reviewed their
Teaching Kids to Sing
product, we had the opportunity to review
Vocal Coach Singer
. This came at a great time for us, as my older two children are singing with me in the adult choir at church this Christmas, and I was wanting to start actual voice lessons with them.
Have you ever said, "I wish I could sing"? I have heard so many people make that statement, and I always want to tell them, "You can!" Obviously, some people are clearly gifted with an exceptional voice. I have, however, seen people who did not seem to have any vocal talent whatsoever take voice lessons and go on to do very well in various auditions. Singing, like so many other abilities, is a skill that can be taught and learned. Furthermore, if people have great talent in this area and do not develop it with training and practice, they will never reach their full potential. Voice lessons are a great benefit, but they are expensive and not always readily available. If you would like to be able to train your own voice or your child's professionally at home,
Vocal Coach Singer
is a great asset.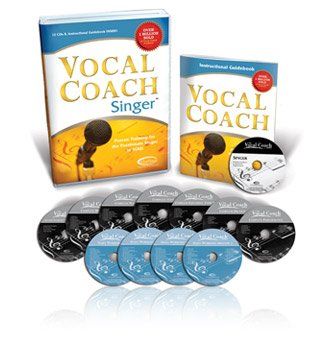 Vocal Coach Singer
is a 12-CD set with the equivalent of over $2,000 worth of voice lessons. It also includes a Guidebook telling you how to use the system, a personal singer's journal, and printable PDFs of the music lead sheets to accompany the exercises on the CD. You can also get a downloadable version of all the PDFs and MP3s for the whole system. This can be easily used on an iPod or other MP3 player.
I was impressed by how comprehensive and easy-to-follow this system is. Beginning with the "Getting Started" MP3s and the Guidebook, I got a good overview of the program. From there, a person just beginning voice lessons may progress through the CDs in order, learning about proper posture, breathing, tone, diction, and warm-ups; or you may skip around to the lessons that you need. Since we've done a bit of singing, and spending too long on the initial "breathing" instruction would be a bit boring for my kids, I skipped around. The workout MP3s for high or medium/low voice with accompanying printable music lead sheets are excellent and are just what I needed for moving my teen and pre-teen from singing children's music to singing with an adult choir. Keeping track of your practice, your progress, and your song selections in the singer's journal will help you see your progress as you become a better singer. Finally, there is a section on "Complete Performance" that will help you choose the best songs and present them in a way that will leave people wanting an encore rather than wondering what shower you practiced in.
I highly recommend this product for anyone who would like to improve their singing skills.
Vocal Coach Singer
is suitable for use with older children and adults. I am using it with my 11-year-old and my 13-year-old. I must admit that I found some of the warm-ups a bit challenging myself. Whew, am I out of practice! :-) The lessons do not teach any specific musical style; rather, they teach principles and habits that will improve any voice and can be applied to any style of music. They are beneficial for beginners as well as accomplished professionals.
The Product:
Vocal Coach Singer:
12-CD set with Guidebook, Journal, and printable PDFs, also available in all-downloadable form
Ages: Youth or Adult
Price: $119.99 for the CD set
$99.99 for the MP3 downloads

Disclaimer: I received a free MP3 version of Vocal Coach Singer for the purpose of a fair review. No other compensation was received, and all opinions are my own.
Sadly, this is my last review with the Schoolhouse Review Crew, at least for a while. I have been with them for a year and a half and have loved being part of the Crew. I hope I will be able to join them again another year. For the year 2013, however, I have the opportunity to pursue some other exciting projects. More about that very soon. Keep following my blog and stay tuned!