The latest
Apologia
product that the Crew has had the privilege to review is the book
Journeys of Faithfulness
by Sarah Clarkson. Through a series of stories about biblical women such as Mary, Ruth, and Esther, the author challenges young women to explore and deepen their relationship with Christ. The 232 pages of the paperback include devotionals and journaling spots. Each story gives a historical fiction account of one of these women, using the details we know from the Biblical story and adding the author's insight into what the characters could have felt and how they may have been affected by the events. The book may be used as a devotional guide for adolescent women and their mothers.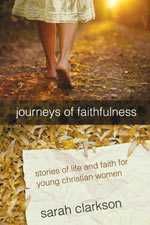 My daughter and I read these stories separately and then discussed them together. My daughter is 11, so she may be on the young side of the age range for which the book is intended. I have always enjoyed historical fiction. I like reading something that helps me put myself in the place of a historical character, imagining what it must have been like to experience what she experienced. What would it have been like to have Jesus physically eat in my house, or to approach Boaz in the darkness and uncover his feet? (And why did she uncover his feet, anyway?!) This book took me into those characters' lives. The author is very imaginative and descriptive. That said, this book also pushed the limits a bit, to where I felt that the essence of the characters was being missed or changed. My daughter did not care for the style of writing, but it may just be that she is a bit young. Perhaps we will try it again in a few years. I like a devotional book that will bring a mother and a daughter into these types of conversations about the women of our Christian heritage and about Jesus Himself. I think it may be good for mothers and older teen girls.
To see what my Crewmates thought of the book, click the banner below.

Disclaimer: I received a free copy of Journeys of Faithfulness for the purpose of a fair review. No other compensation was given, and all opinions are my own.