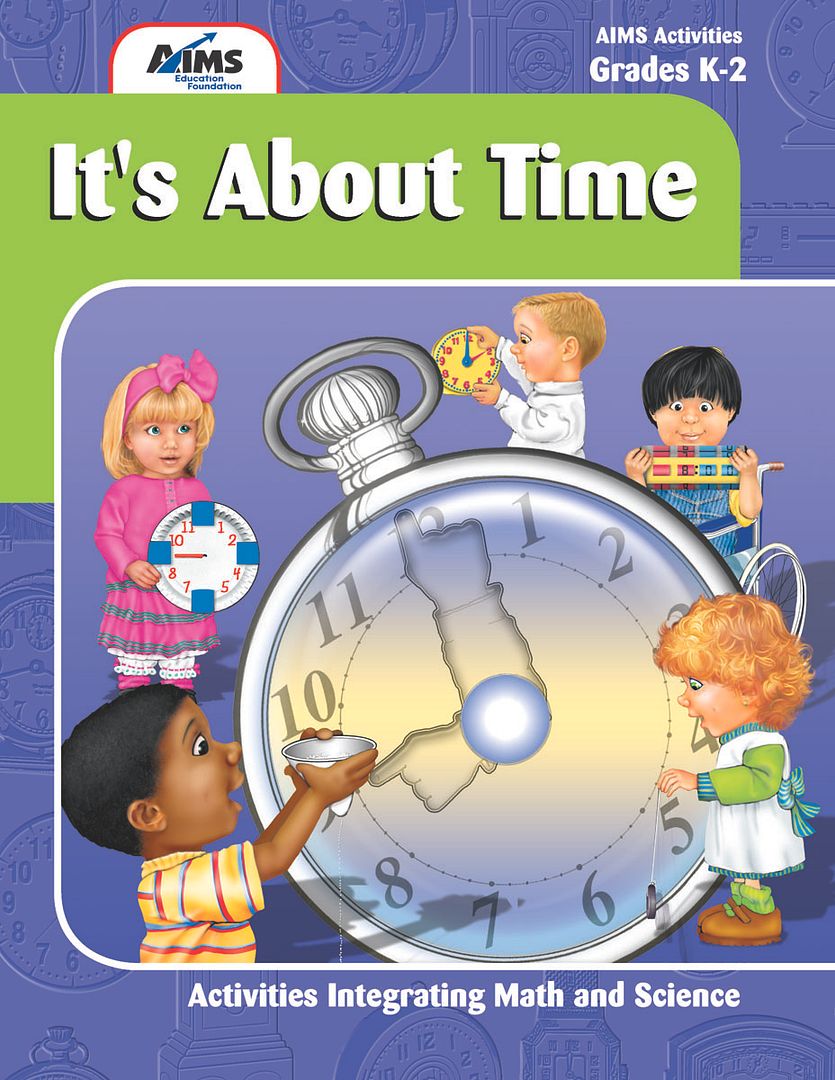 This review was very "timely" for me, since I have been working on "time" with my first grader. Ha, ha! Well, sorry, it's hard to be funny in a blogpost!
I received
It's About Time
from
AIMS Education Foundation
. AIMS stands for Activities Integrating Math and Science, and they offer books and PDF downloads full of hands-on activities in a variety of Math and Science concepts. These are ideal for schools or for home-schools, and some of the books are designed to specifically correlate to individual state standards.
It's About Time is a series of investigations designed to build a conceptual understanding of time and its measurement. Experiences included have students sequencing events, measuring duration of time (long time/short time), and reading clocks. (from the back cover)
I received a physical copy of
It's About Time
, which is geared towards Grades K-2. I enjoyed having such a plethora of ideas for activities at my disposal, as I think that too many kids these days are relying on digital clocks and not learning to read an analog clock face well enough. And as I've said before, my first grader needs hands-on activities! This book is far more than I needed in terms of activities, which gave me the opportunity to just choose the activities that worked for me. One of my favorites was making clock faces out of paper plates, with bobby pins for clock hands! Some of the pages are reproducible (see back page for copyright permissions), and a handy CD is included in the back with a few of the common ones that you may want to print out over and over again. Some of the activities, such as the "Who Has?" time game, are better suited for a classroom, but they look like so much fun that we may have to get a few friends together from the homeschool group to do them!
The activities in the book are somewhat time-consuming, and some require quite a bit of teacher preparation. This can be a pro or a con. If you have students who have learned to tell time quickly from their regular math worksheets, this book may be a little much for you, with 155 pages devoted only to telling time! If, however, you have students who just aren't grasping the concept of "Time" and who need more than what the standard workbook has to offer, this may be just the help that you need.
You can find
It's About Time
on the AIMS website
here
. You may choose the physical book or the PDF digital download for $21.95. Personally, I am very interested in checking out some of the other books that AIMS has to offer, and you can do that in the
AIMS store
. My TOS crewmates reviewed several different AIMS products. If you are interested in some of the others, you may find those reviews
here
.

Disclaimer: I received a free physical copy of It's About Time in exchange for a fair review. No other compensation was given, and all opinions are my own.