I remember doing Vocabulary Words when I was in school. Write the word, spell it correctly, write the pronunciation, write the definition, then use the word in a sentence. At the end of each week, we would be quizzed on a group of the words. Increasing a child's vocabulary is so important both for SAT and other test preparation, and also for improving general reading comprehension and communication skills. The majority of my vocabulary, however, came from the books I read rather than from the word lists we used each week.
Children learn so much about spelling, vocabulary, and grammar simply by reading avidly. Of course, when they come across a word that is new to them, they need to stop reading, look it up in the dictionary, and find the definition. Um, well, I wasn't so good at that part growing up. I usually tried to figure it out from the context and keep going, as do my kids now!
Well, we always want something better for the next generation, and now my kids have
Vocabcafe Books
from
College Prep Genius
, at
http://collegeprepgenius.com
. These modern, middle-to-high-school level, fiction books include 300 SAT-level vocabulary words in the text of each book, and the vocabulary words are highlighted. You can find the definition of each highlighted word at the bottom of that very page! There is also a word review and appendix at the end of each book. While I hoped that my 8th-grader would enjoy the books, his 6th-grade sister enjoyed them as well. They both agreed that this method of learning vocabulary beat looking up every word and writing down its definition hands-down!
According to the website and our own TOS Homeschool Crew page:
These original, modern novellas contain no foul language, no illicit sexual themes, and no sorcery. Parental discretion is advised, however, in the case of I.M. for Murder, which contains graphic material some readers may find upsetting.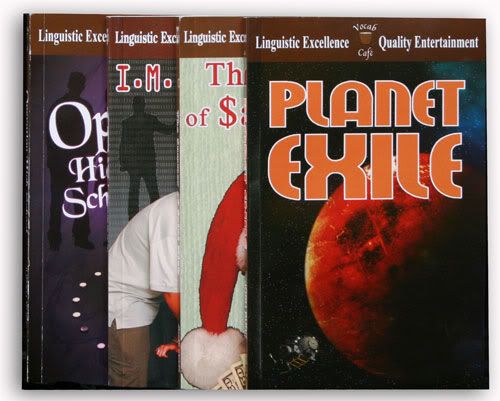 College Prep Genius is currently offering this set of four novels at the special sale price of $38.85, or you may purchase the books individually for $12.95 each. The set includes:
Planet Exile, The Summer of Saint Nick, IM for Murder,
and
Operation High School
. You may purchase them
here
.
College Prep Genius
also offers other books and DVDs about standardized test preparation, improving your SAT scores, and finding scholarships for college.
To see what other TOS Crew members thought of the Vocabcafe Series and the SAT Prep Course, click
here
.
Disclaimer: I received free copies of the four novellas in the Vocabcafe Series for the purpose of a fair review. No other compensation was given, and all opinions are my own.