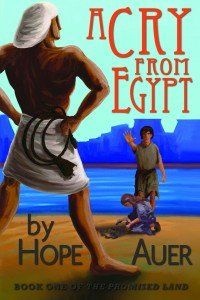 One of our favorite products that we reviewed last year as part of the TOS Schoolhouse Crew was
A Cry From Egypt
by Hope Auer.
How would you feel if you had been a Hebrew slave living in ancient Egypt? What would your life have been like? Furthermore, what would it have been like to be a Hebrew child in slavery in ancient Egypt? I think that pondering this question really brings the truth of what happened home to children. After all, of the adult Hebrews who left Egypt, only two entered the Promised Land. The children who walked out of Egyptian slavery were the ones who later established the nation of Israel.
See the rest of the review at
Schoolhouse Review: A Cry From Egypt
.

While we are anxiously awaiting the release of the sequel in The Promised Land Series, Ms. Auer has given us the great opportunity to give away a free signed copy of
A Cry From Egypt
! Enter with Rafflecopter below!
a Rafflecopter giveaway
Find Hope Auer at any of the below locations:
Facebook: https://www.facebook.com/hopeauerbooks?fref=ts
Twitter: @hopefulstories
Website: www.acryfromegypt.com
Great Waters Press on Facebook: https://www.facebook.com/raisingrealmen
Great Waters Press on Twitter: @raisingrealmen.